GrowHop Urban Cricket Farm & FoodLab: Find out how GrowHop is going to make you love eating bugs!
26 Febrero, 2016
---
GrowHop Urban Cricket Farm & FoodLab
Find out how GrowHop is going to make you love eating bugs!
Version française ci-dessous

The idea of eating bugs is kinda nasty at first. We know. But please read our story, we think you might reconsider.
The insects as food movement is gaining steam. The United Nations believes it has major potential to address the food security issues resulting from climate change and dwindling resources. The market has also responded. More and more companies are developing cricket brownies, crackers, and energy bars! But here is what we noticed…
Very few people are producing the crickets these businesses need as ingredients. Our market research shows there's more demand than supply. That's why we've already set up our farm where we are developing ways to produce crickets on a large scale with permaculture, biodynamics, and resource-efficiency in mind.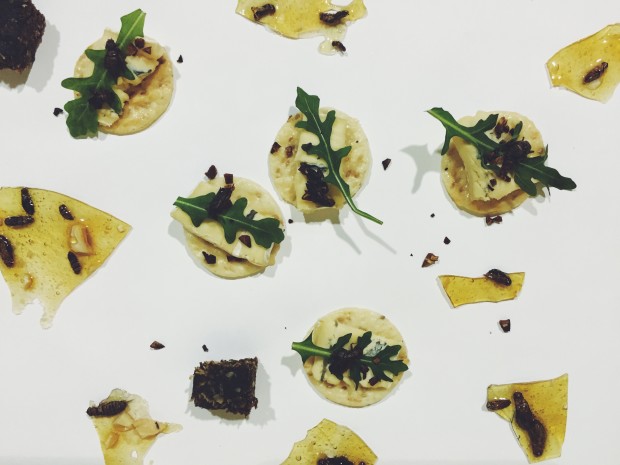 ⬆ Cricket brittle, roasted cricket hors d'oeuvres, cricket energy bars, oh my!
And then we thought, OK sure, insects are a smart food source. But what about what really matters, taste? Food is the heart of our identities, societies, and cultures. We eat food that we love. That's why our FoodLab is cooking up ways to prepare crickets that will make you crave them.Our ultimate vision, as crazy is it sounds, is that crickets will be a staple like eggs or milk. So we are laying the groundwork for that beautiful future. In the mean time,  we need  funds to scale and to set us up for success. That's where you come in, friends.

Please help us raise $25,000 to support our operating costs! We need:
Rent for our warehouse farm and commercial kitchen
More live crickets to grow our little herd
Indoor environmental control systems: humidifier, air exchange, and temperature controls
Sourcing and buying ingredients for our amazing cricket food products
As a thank you, you have the exclusive opportunity to get Ottawa's first locally farmed crickets! Whether you are already an insectivore or are just dipping your toes, we have a perk for you. Distributors and restaurateurs, here's your chance.  Be the first to feature GrowHop crickets on your shelves and menus.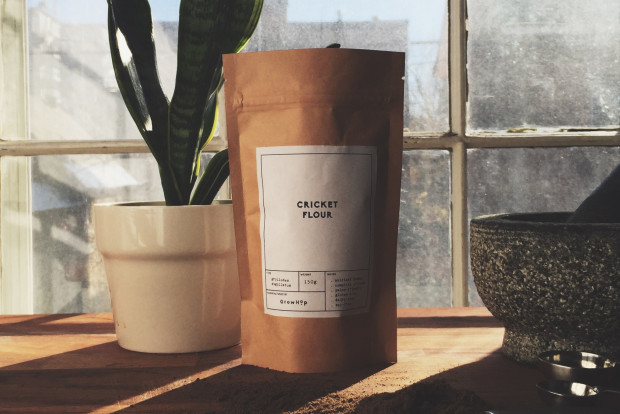 ⬆ GrowHop Cricket Flour, our flagship product

As a GrowHop backer, you are directly supporting local food security. It is an insane challenge to introduce a new food to our culture. With your help, we can accelerate the movement and bring crickets mainstream.  This could help disrupt unsustainable protein sources as we know them.
Crickets are for everyone! We've been talking about our idea all around town. We've heard the people who have undergone gastric bypass and are looking for an alternative to sketchy protein mixes from unethical conglomerate companies. We hear bodybuilders who want sustainable, nutritious, high-protein snacks. We hear foodies and restaurateurs who are inspired by this new ingredient.
Crickets are an excellent choice for your health and the environment. They contain as much protein as beef, but much less fat. They contain as much omega-3as salmon. It's also a source of iron, fibre, magnesium, and B vitamins –a single tablespoon of cricket flour contains a daily recommended dose of B12!
Crickets are also impressive on the sustainability front. Raised in the city, theyminimize the expenditure of fossil fuels for transport. Our dependence on meet is an important cause of global warming and the Earth's growing population means our needs will only continue to grow. Insects are an excellent eco-alternative to traditional protein sources.

Like any farming operation, GrowHop is not without its risks. We are dealing with living systems so our timeline is not set in stone. We are confident we can get production rolling in two to four months.
Our best guarantee is our kick-ass, passionate, interdisciplinary team. The GrowHop team has expertise in organic farming, sustainable design, marketing,sociology, anthropology, and policy.
And you can always count on our transparency and accountability. We are bringing you with us on our cricket journey. As we discover, experiment, and research ways to incorporate crickets into your diets and ours, we will be fully accessible. Just an email away. You will always know what we are up to.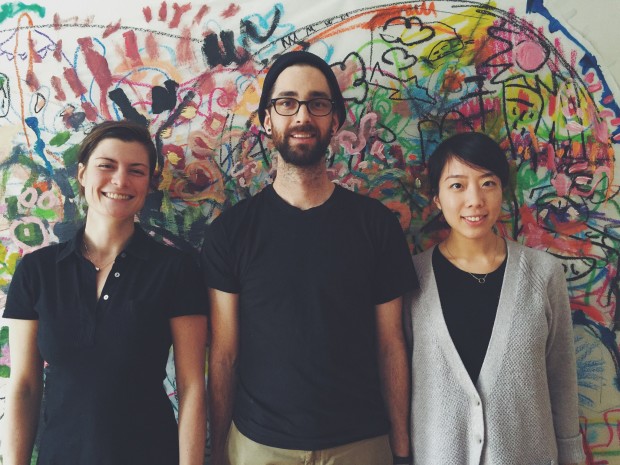 ⬆ Our team: Laura Shine, Andrew Afelskie, Vivien Leung

Please let your friends know about our campaign! We are also looking forpartners in the form of restaurants, farms, and supermarkets who are ready to make their cricket leap of faith. ❤ We are open to possibilities, so hit us up with your questions and comments.
Version Française ⤵

Oui, vous avez bien lu! L'idée peut sembler étrange, on le sait. Mais les insectes comestibles ont le vent dans les voiles! L'ONU a fait des insectes un des piliers de sa lutte contre l'insécurité alimentaire dans un contexte de changements climatiques et de pénuries de ressources. Les consommateurs sont également au rendez-vous: de plus en plus d'entreprises proposent des collations et desserts aux grillons, des brownies, craquelins et barres énergétiques.
Mais nous avons constaté que la matière première manque! Il existe très peu d'éleveurs de grillons en Amérique du Nord. Nos études de marché montrent que la demande surpasse l'offre. Voilà pourquoi nous avons démarré notre ferme, oùnous élevons des grillons avec des idéaux de permaculture, de biodynamie et d'efficacité énergétique en tête. Nos grillons mangent bio, sont sans gluten et sont compatibles avec la diète paléo.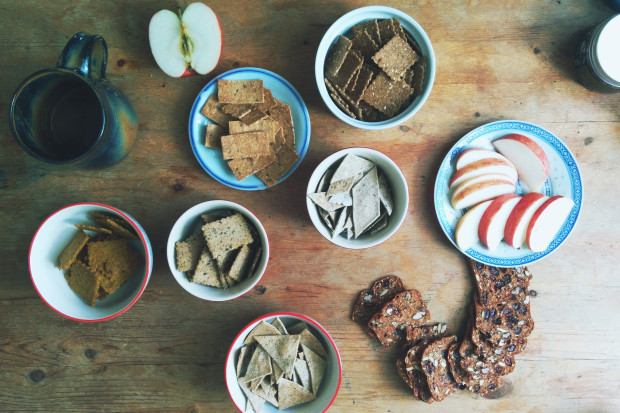 ⬆ Assortiment de craquelins aux grillons GrowHop
Les grillons sont peut-être une bonne option pour notre santé et pour l'environnement, mais sont-ils bons tout court? Finalement, c'est bien ça qui compte, non? L'alimentation est au coeur de nos identités, de nos sociétés, de nos cultures. Nous mangeons des nourritures que nous aimons. C'est pourquoi notre FoodLab prépare des grillons de mille et une façons que vous allez adorer!
Notre rêve fou, c'est de voir les grillons devenir un aliment du quotidien, un peu comme le lait ou les oeufs. Nous mettons la table pour ce futur pas si lointain. En attendant, nous avons besoin de votre aide pour raffiner nos infrastructures et poursuivre la recherche et le développement. Voilà où vous entrez en scène.

Aidez-nous à récolter 25 000$ pour couvrir une fraction de nos coûts d'installation et de roulement! Nous avons besoin:
De payer le loyer de notre local de ferme (installée dans un super espace de cotravail) et de notre cuisine commerciale (aussi un espace partagé avec d'autre jeunes créatifs de l'alimentation)
De plus de parents grillons pour engendrer un plus grand troupeau GrowHop

De systèmes de contrôle de la température et de l'humidité (échangeur d'air, humidificateur, thermostats)

D'ingrédients biologiques pour développer et tester nos délicieuses recettes aux grillons
En guise de remerciement, vous aurez un accès exclusif aux premiers grillons locaux de la région d'Ottawa! Que vous soyez déjà entomovore ou simplement curieux de prendre part au mouvement, nous avons une contrepartie pour vous. Distributeurs et restaurateurs, voici aussi votre chance: soyez les premiers à proposer des grillons GrowHop à votre clientèle!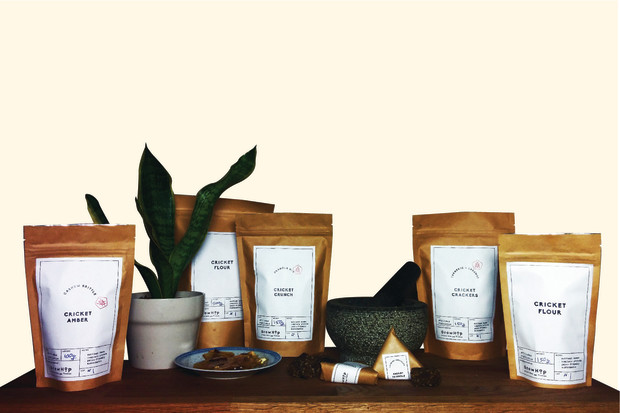 ⬆ Nos produits: croquant, craquelins, barres d'énergie, farine, granola

En tant que contributeur à la campagne de GrowHop, vous soutenez l'innovation locale et aidez à transformer le système alimentaire dominant. Introduire un nouvel aliment dans nos cultures, c'est un défi un peu fou. Grâce à votre aide, nous pourrons surfer la vague et faire des grillons un aliment du quotidien. C'est un grand pas dans la bonne direction pour des protéines issues de l'agriculture durable.  
Nous avons discuté de nos idées avec toutes sortes de gens. Nous avons écouté les athlètes en quête de collations écologiques, nutritives et hautes en protéines. Nous avons écouté les gourmands et les restaurateurs inspirés par de nouvelles saveurs et textures. Nous avons écouté  les patients ayant subi une chirurgie bariatrique et qui cherchent une alternative aux mélanges de protéines ultra-raffinées produits par des conglomérats aux morales douteuses. Surtout, nous avons écouté les citoyens ordinaires préoccupés par l'impact environnemental de leurs choix alimentaires. Les grillons, c'est pour tout le monde!

Les grillons sont un excellent choix tant pour l'environnement que pour votre santé. Ils contiennent autant de protéines que du boeuf mais beaucoup moins de gras, et autant d'Omégas-3 que du saumon. On y retrouve aussi toutes sortes de petites choses importantes comme du fer, des fibres, du magnésium et des vitamines du complexe B – une seule cuillère à table de farine de grillons contient suffisamment de vitamine B12 pour toute la journée.
Les grillons ont aussi un bilan environnemental enviable. Ils sont élevés en pleine ville, minimisant les besoins en transports et en combustibles fossiles. Nous savons aussi que notre dépendance à la viande est une cause importante du réchauffement climatique, et que plus de bouches à nourrir veut dire plus de besoins en eau et en ressources pour nourrir le bétail au cours des prochaines décennies. Les insectes sont une excellente éco-alternative aux viandes traditionnelles.

Comme n'importe quelle entreprise agricole, GrowHop n'est pas sans risque. Nous traitons avec des organismes vivants, alors notre calendrier n'est pas fixé dans la pierre. Mais nous sommes confiants que la production sera bien en route d'ici 2 à 4 mois. Notre meilleure garantie, c'est notre top équipe passionnée et interdisciplinaire. L'équipe GrowHop a de l'expérience en agriculture biologique, en design d'environnements durables, en marketing, en politique et gouvernance, et sociologie, en anthropologie et, bien sûr, en cuisine!
Vous pouvez toujours compter sur notre transparence et notre redevabilité. Nous vous embarquons dans l'aventure des grillons! Au fil de nos découvertes, de nos expériences et de nos recherches pour faire des grillons une part de nos diètes – et de la vôtre – nous serons toujours accessibles à quelques clics de distance. Il suffit d'un courriel pour savoir où nous en sommes!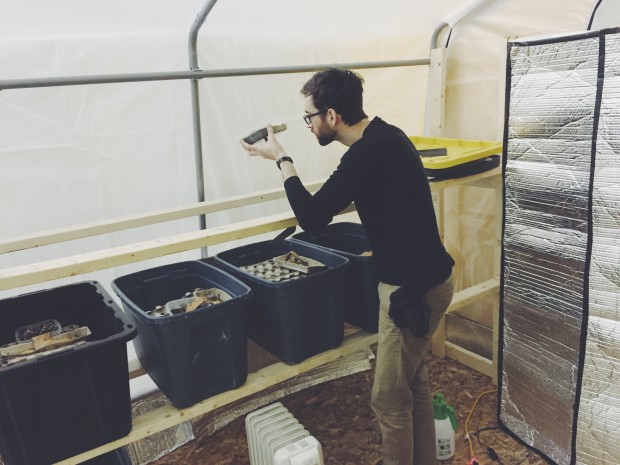 ⬆ Andrew au boulot! Notre ferme à Nepean

Parlez de GrowHop à vos amis! Faites connaître la bonne nouvelle via Facebook, Twitter, ou d'autres médias sociaux qui vous allument. Nous sommes aussi à la recherche de partenaires restaurateurs, agriculteurs, et dans le commerce de détail qui seraient prêts à faire le saut (du grillon)! ❤ Nous sommes ouverts d'esprits, parlez-nous de vos idées les plus folles.

Find This Campaign On
Summary:
The idea of eating bugs is kinda nasty at first. We know. But please read our story, we think you might reconsider.
Youtube: https://youtu.be/cNo6bQaSLGw
See Campaign: https://www.indiegogo.com/projects/growhop-urban-cricket-farm-foodlab–2
Contact Information:
Andrew Afelskie
Tags:
Indiegogo, Women, Teens, Family, Reward, Consumer, Men, Canada, English, French, North America, Food and Beverage, Industry verticals, Regions, Types of Crowdfunding deal, Language
The post GrowHop Urban Cricket Farm & FoodLab: Find out how GrowHop is going to make you love eating bugs! appeared first on iCrowdNewswire.
Source: icnw
Otras noticias de interés